Our Products
Stainless Steel Spray Nozzles
Stainless Steel Spray Nozzles
leading Manufacturer Exporter & Supplier of Stainless Steel Spray Nozzles in Mumbai Maharashtra India, Exporter of Stainless Steel Spray Nozzles in Maharashtra, Wholesale Stainless Steel Spray Nozzles Supplier in Mumbai, Stainless Steel Spray Nozzles Manufacturing Company in India.
manufacturer exporter of stainless steel spray nozzles in mumbai, stainless steel spray nozzles supplier, stainless steel spray nozzles manufacturer in mumbai, stainless steel spray nozzles exporter, stainless steel spray nozzles manufacturing & export company in india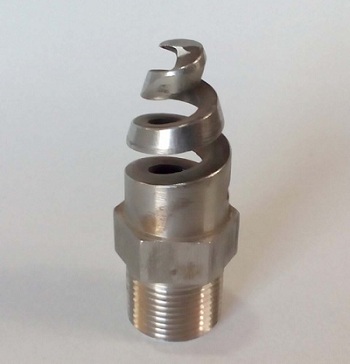 We are one of the respected Exporter and Supplier of a wide variety of excellent quality Stainless Steel Spray Nozzles. We offer Special Spray Nozzles made from nickel alloys, duplex stainless steel and other high temperature alloys. Stainless Steel Spray Nozzles that we offer are used for humidification, cleaning, cooling system, tank cleaning, lubrication, etc. Our clients can obtain bulk quantities of our Stainless Steel Spray Nozzles at the most competitive rates from us.
We Offer Spray Nozzles For Industry Applications Such As :
Spray nozzles for Humidification
Spray nozzles for Cleaning
Spray nozzles for cooling systems
Spray nozzles for Tank cleaning
Spray nozzles for Injection
Spray nozzles for Lubrication
Spray nozzles for Stripping
Spray nozzles for Dust suppression
Spray nozzles for Coating

Types of Spray Nozzles we manufacture
Stainless Steel Spray nozzles
Stainless Steel Full cone spray nozzles
Stainless Steel hollow cone spray nozzles
Stainless Steel Solid jet spray nozzles
Stainless Steel air blowing nozzles
Stainless Steel spiral nozzles
Stainless Steel High impact nozzles
Stainless Steel Air atomizing nozzles
Stainless Steel Narrow full cone nozzles
Stainless Steel Fogging nozzles
Stainless Steel Tank and tube cleaning nozzles
Stainless Steel Threaded disc nozzles
Stainless Steel High pressure nozzles
Stainless Steel Swivels
Stainless Steel Self cleaning nozzles
Stainless Steel Hydraulic atomizing nozzles

How to choose a Right Nozzle?
Checking the right Operating temperature : Checking the right Nozzle operating temperature will have a large bearing on the type of material to be used. Stainless Steel 303,304,316 and 316L spray nozzles have a temperature of up to 430.
Abrasion Resistant properties of the Raw material :The Spray fluid can cause abrasion of the orifice & swirl chamber component of the nozzle. High temperature resistant material should always be considered while manufacturing the Nozzle. The best choice for stainless steel spray nozzle material are stainless steel , Nickel alloys, Duplex steel, copper and brass alloys.
Nozzle Raw Material shall be free from Chemical attack :For selection of a right spray nozzle and the raw material the specification of the spray fluid shall be considered so that the surface of the nozzle can be decided before it too late.
Corrosion resistance of material :Stainless Steel, nickel alloy and duplex steel nozzles shall always be considered for their excellent corrosion quality. The best corrosion resistant spray nozzle are formed by Hastelloy, Inconel, Monel alloys which has the best combination of corrosion resistance and high temperature resistance tolerance.
Stainless Steel Spray Nozzles Supplier
Baroda, Granada, Ankara, Ahvaz, Port-of-Spain, Caracas, Vadodara, Sydney, Thiruvananthapuram, Lagos, Pimpri-Chinchwad, Ernakulam, Nagpur, Coimbatore, Mexico City, Santiago, Abu Dhabi, Dammam, Surat, Ludhiana, Bogota, Courbevoie, Melbourne, Noida, Tehran, Perth, Bengaluru, Haryana, Edmonton, Los Angeles, Faridabad, Seoul, Madrid, Sharjah, Bhopal, Thane, La Victoria, Pune, Dubai, Jamshedpur, Rajkot, Lahore, Geoje-si, Jakarta, Kolkata, Gimhae-si, Vung Tau, Karachi, Istanbul, Manama, Kuwait City, Howrah, Hanoi, Hong Kong, New Delhi, Calgary, Ranchi, Muscat, Hyderabad, Mumbai, Moscow, Kuala Lumpur, Nashik, Busan, Ho Chi Minh City, Singapore, Aberdeen, Algiers, Cairo, Chandigarh, Dallas, Milan, Ahmedabad, Houston, Ulsan, Visakhapatnam, Colombo, New York, Chennai, Toronto, Brisbane, Petaling Jaya, Jaipur, Navi Mumbai, Atyrau, Jeddah, Secunderabad, Kanpur, Gurgaon, Bangkok, Indore, Rio de Janeiro, Montreal, Al Khobar, Riyadh, London, Chiyoda, Doha, Al Jubail
Stainless Steel Spray Nozzles Exporter
Norway, Puerto Rico, Yemen, Romania, Mongolia, Brazil, Costa Rica, South Korea, Finland, Lithuania, Italy, Qatar, Colombia, Russia, Lebanon, Indonesia, Bangladesh, Zimbabwe, New Zealand, Belgium, Taiwan, Poland, Macau, Israel, Serbia, Malaysia, Germany, Venezuela, Afghanistan, Ireland, Poland, Thailand, Gabon, India, Tibet, Australia, Nigeria, Angola, Sri Lanka, Libya, Hong Kong, Mexico, Kuwait, Switzerland, Bhutan, Bulgaria, Nepal, Singapore, China, Kenya, Croatia, Japan, Sweden, Trinidad & Tobago,Tunisia, Egypt, France, Bolivia, Peru, Mexico, United Kingdom, Austria, Portugal, United Arab Emirates, Jordan, Ecuador, Nigeria, Chile, Czech Republic, Philippines, Iran, Chile, Netherlands, Canada, Namibia, Slovakia, Kazakhstan, Ghana, Turkey, South Africa, Azerbaijan, Oman, Belarus, Gambia, Saudi Arabia, Ukraine, Morocco, Greece, Spain, Pakistan, United States, Iraq, Iran, Bahrain, Algeria, Argentina, Hungary, Denmark, Estonia, Vietnam