Stainless steel Tanks
stainless steel tanks exporter from Maharashtra, exporter of stainless steel tanks in Mumbai, stainless steel tanks supplier, wholesale stainless steel tanks supplier in Mumbai, stainless steel tanks export company in India
Wholesale Stainless Steel Tanks Supplier in Maharashtra, Stainless Steel Tanks Export Company in India.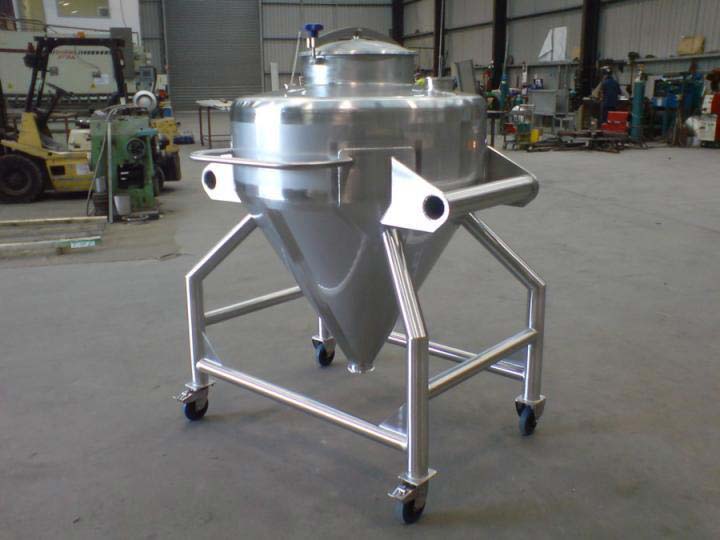 We provide high quality Stainless Steel Tanks that are made from the best quality of raw materials. Stainless steel Tanks play an important role in many processes today and therefore it is necessary to deal in high quality Stainless steel Tanks. We provide optimum quality Stainless steel Tanks our clients which mainly includes large scale dealers, retailers and bulk buyers.

Having vast Information about The technical of stainless steel grades and its applications, Harsh steel supplies and exports Stainless Steel tanks of various types such as Stainless steel water tankers, Stainless Steel Milk Tanker, Stainless Steel heat Exchangers, Stainless Steel Chemical Storage Tankers, Stainless Steel pressure vessels tanks, Stainless steel Distillation Columns, Stainless Steel evaporators, Stainless Steel Industrial Tanks. Harsh steel provides Stainless steel 304/304L Tanks, Stainless steel 316/316L/316TI Tanks, Stainless steel 310/310S Tanks, Stainless steel 347/347H Tanks, Stainless steel 317 Tanks, Stainless steel 321 Tanks, Stainless steel 904L Tanks, Stainless steel Alloy 20 Tanks, Stainless steel Alloy 286 Tanks, Duplex stainless steel UNS S31803 Tanks, 2205 Tanks, Super Duplex stainless steel UNS S32750 Tanks. All our Stainless Steel tanks are available in ranges from 200 Gallons to 2,600 Gallons.
we also manufacture as per clients requirements and drawings.
Stainless Steel Tanks Supplier
Baroda, Granada, Ankara, Ahvaz, Port-of-Spain, Caracas, Vadodara, Sydney, Thiruvananthapuram, Lagos, Pimpri-Chinchwad, Ernakulam, Nagpur, Coimbatore, Mexico City, Santiago, Abu Dhabi, Dammam, Surat, Ludhiana, Bogota, Courbevoie, Melbourne, Noida, Tehran, Perth, Bengaluru, Haryana, Edmonton, Los Angeles, Faridabad, Seoul, Madrid, Sharjah, Bhopal, Thane, La Victoria, Pune, Dubai, Jamshedpur, Rajkot, Lahore, Geoje-si, Jakarta, Kolkata, Gimhae-si, Vung Tau, Karachi, Istanbul, Manama, Kuwait City, Howrah, Hanoi, Hong Kong, New Delhi, Calgary, Ranchi, Muscat, Hyderabad, Mumbai, Moscow, Kuala Lumpur, Nashik, Busan, Ho Chi Minh City, Singapore, Aberdeen, Algiers, Cairo, Chandigarh, Dallas, Milan, Ahmedabad, Houston, Ulsan, Visakhapatnam, Colombo, New York, Chennai, Toronto, Brisbane, Petaling Jaya, Jaipur, Navi Mumbai, Atyrau, Jeddah, Secunderabad, Kanpur, Gurgaon, Bangkok, Indore, Rio de Janeiro, Montreal, Al Khobar, Riyadh, London, Chiyoda, Doha, Al Jubail
Stainless Steel Tanks Exporter
Norway, Puerto Rico, Yemen, Romania, Mongolia, Brazil, Costa Rica, South Korea, Finland, Lithuania, Italy, Qatar, Colombia, Russia, Lebanon, Indonesia, Bangladesh, Zimbabwe, New Zealand, Belgium, Taiwan, Poland, Macau, Israel, Serbia, Malaysia, Germany, Venezuela, Afghanistan, Ireland, Poland, Thailand, Gabon, India, Tibet, Australia, Nigeria, Angola, Sri Lanka, Libya, Hong Kong, Mexico, Kuwait, Switzerland, Bhutan, Bulgaria, Nepal, Singapore, China, Kenya, Croatia, Japan, Sweden, Trinidad & Tobago,Tunisia, Egypt, France, Bolivia, Peru, Mexico, United Kingdom, Austria, Portugal, United Arab Emirates, Jordan, Ecuador, Nigeria, Chile, Czech Republic, Philippines, Iran, Chile, Netherlands, Canada, Namibia, Slovakia, Kazakhstan, Ghana, Turkey, South Africa, Azerbaijan, Oman, Belarus, Gambia, Saudi Arabia, Ukraine, Morocco, Greece, Spain, Pakistan, United States, Iraq, Iran, Bahrain, Algeria, Argentina, Hungary, Denmark, Estonia, Vietnam