Heat Exchanger Tubes
Heat exchanger tubes manufacturer in mumbai, wholesale heat exchanger tubes supplier mumbai, heat exchanger tubes exporter, heat exchanger tubes manufacturer exporter in mumbai, heat exchanger tubes manufacturing company in india
Manufacturer Exporter & Supplier in Mumbai India-Metal Ministry Inc. is a best Manufacturer Exporter & Supplier of Heat Exchanger Tubes in Mumbai, Heat Exchanger Tubes Supplier Maharashtra, Heat Exchanger Tubes Manufacturing Company in India.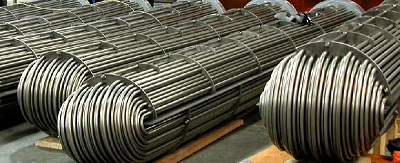 The company is involved in the exporting and supplying of high quality Heat Exchanger Tubes. We offer stainless steel, duplex steel and nickel alloy heat exchanger tubing, thin wall tubing, nickel alloy tubing and coil tubing. We provide Heat Exchanger Tubes to the leading heat exchanger companies in the minimum length ranging from 9000mm to 30,000mm (which is 9 meters to 30 meters long). We keep the largest stock for nickel alloy, duplex and titanium heat exchanger tubes along with U tubes. Moreover, clients can obtain bulk quantities of Heat Exchanger Tubes at the most competitive rates. We export and Supply Heat Exchanger Tubes in Middle East, Europe, gulf, and Africa.
Heat Exchanger Tubes Supply Worldwide :
Our Heat exchanger tubes are available in austenitic stainless steels, duplex stainless steels, nickel alloys, and titanium for heat exchangers which are used in seawater coolers, condensers, evaporators and heaters. Our sizes starts from 12.7mm OD to 38mm OD, with a thickness of 0.5mm to 6mm thickness. The Packing of Heat Exchanger tubes is done in Wooden pack pallets to prevent them from sea water while transportation.
Some of the grades of Heat Exchanger tubes available at Metal Ministry Inc.
Duplex stainless steels S31500 Heat Exchanger tubes
Duplex stainless steels S31803/S32205 Heat Exchanger tubes
Duplex stainless steels S32304 Heat Exchanger tubes
Duplex stainless steels S32707 Heat Exchanger tubes
Nickel alloy N06600 Heat Exchanger tubes
Nickel alloy N06625 Heat Exchanger Tubes
Nickel alloy N06690 Heat Exchanger tubes
Nickel alloy N08825 Heat Exchanger tubes
Nickel alloy N08904 Heat Exchanger tubes
Duplex stainless steels S31254 Heat Exchanger tubes
Stainless steel S30403/S30400 Heat Exchanger tubes
Stainless steel S31603/S31600 Heat Exchanger tubes
Stainless steel S31635 Heat Exchanger tubes
Stainless steel S32100/S32109 Heat Exchanger tubes
Titanium Grade 1 Heat Exchanger tubes
Titanium Grade 5 Heat Exchanger tubes
Heat Exchanger Products Supplier
Baroda, Granada, Ankara, Ahvaz, Port-of-Spain, Caracas, Vadodara, Sydney, Thiruvananthapuram, Lagos, Pimpri-Chinchwad, Ernakulam, Nagpur, Coimbatore, Mexico City, Santiago, Abu Dhabi, Dammam, Surat, Ludhiana, Bogota, Courbevoie, Melbourne, Noida, Tehran, Perth, Bengaluru, Haryana, Edmonton, Los Angeles, Faridabad, Seoul, Madrid, Sharjah, Bhopal, Thane, La Victoria, Pune, Dubai, Jamshedpur, Rajkot, Lahore, Geoje-si, Jakarta, Kolkata, Gimhae-si, Vung Tau, Karachi, Istanbul, Manama, Kuwait City, Howrah, Hanoi, Hong Kong, New Delhi, Calgary, Ranchi, Muscat, Hyderabad, Mumbai, Moscow, Kuala Lumpur, Nashik, Busan, Ho Chi Minh City, Singapore, Aberdeen, Algiers, Cairo, Chandigarh, Dallas, Milan, Ahmedabad, Houston, Ulsan, Visakhapatnam, Colombo, New York, Chennai, Toronto, Brisbane, Petaling Jaya, Jaipur, Navi Mumbai, Atyrau, Jeddah, Secunderabad, Kanpur, Gurgaon, Bangkok, Indore, Rio de Janeiro, Montreal, Al Khobar, Riyadh, London, Chiyoda, Doha, Al Jubail
Heat Exchanger Products Exporter
Norway, Puerto Rico, Yemen, Romania, Mongolia, Brazil, Costa Rica, South Korea, Finland, Lithuania, Italy, Qatar, Colombia, Russia, Lebanon, Indonesia, Bangladesh, Zimbabwe, New Zealand, Belgium, Taiwan, Poland, Macau, Israel, Serbia, Malaysia, Germany, Venezuela, Afghanistan, Ireland, Poland, Thailand, Gabon, India, Tibet, Australia, Nigeria, Angola, Sri Lanka, Libya, Hong Kong, Mexico, Kuwait, Switzerland, Bhutan, Bulgaria, Nepal, Singapore, China, Kenya, Croatia, Japan, Sweden, Trinidad & Tobago,Tunisia, Egypt, France, Bolivia, Peru, Mexico, United Kingdom, Austria, Portugal, United Arab Emirates, Jordan, Ecuador, Nigeria, Chile, Czech Republic, Philippines, Iran, Chile, Netherlands, Canada, Namibia, Slovakia, Kazakhstan, Ghana, Turkey, South Africa, Azerbaijan, Oman, Belarus, Gambia, Saudi Arabia, Ukraine, Morocco, Greece, Spain, Pakistan, United States, Iraq, Iran, Bahrain, Algeria, Argentina, Hungary, Denmark, Estonia, Vietnam