Our Products
HSC Armor Plate 500T Grade
HSC Armor Plate 500T Grade
HSC ARMOR PLATES 500T GRADE SUPPLIER, HSC ARMOR PLATES 500T GRADE EXPORTER, HSC ARMOR PLATES 500T GRADE & SHEETS STOCKIST, HSC ARMOR PLATES 500T GRADE DISTRIBUTOR, HSC ARMOR PLATES 500T GRADE STOCKIST IN INDIA.
This high hardness armor has extraordinary toughness properties. HSC 500T it is the toughest protection plate in the world, with a nominal hardness of 500 HBW, making it the perfect choice for vehicles, buildings and a wide range of other applications.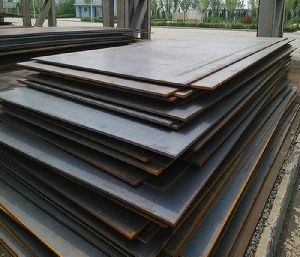 With excellent hardness, HSC Armor Plates - 500T Grade are the toughest protection plates available, suitable for vehicles, buildings, and many other applications. Protection steel, ballistic protection steel, or armor steel are all steels designed to protect against external threats. These plates combine penetration and blast protection with an excellent hardness/toughness balance. All over the world, HSC Armor Plates 500T Grade are extensively used for the protection of people and valuables. As well as being tough enough to withstand shocks, the 500T Grade HSC armor plates can withstand extreme forces caused by piercing objects hitting them at high speed.
These HSC Armor Plates 500T Grade are available in different lenghths, shapes, sizes, dimensions, diameters, thicknesses, forms, standards, finishes, types, specifications, etc and are available in hot rolled plates, cold rolled plates, polished form plates etc. we perform numerous types of tests like hardness test, toughness test, flaring test, chemical test, mechanical test, impact test, destructive test, ultrasonic test, strength test, flaring test, positive material test, etc. we provide the best packing facility like wooden box, bundle, plastic wrap, carbon box according to the packing requirements of clients.
The Metal Ministry Inc. is a leading supplier and stockist of ANSI/ASTM HSC Armor Plates - 500T Grade | Ballistic Steel Plates of high quality. Our company specializes in supplying ballistic steel plates in a wide variety of sizes, materials, and dimensions. Products are visually checked for compliance with ASTM, DIN, MSS, EN, and JIS codes and standards. To verify material reports, dimensions, and quality conformity of products, certified inspection organizations can be called in.
HSC Armor Plates - 500T Grade Mechanical Properties
| | | | | | | |
| --- | --- | --- | --- | --- | --- | --- |
| R MPa | R MPa | A% | HB t °C CHA | HB t °C CHA | HB t °C CHA | HB t °C CHA |
| Ramor 500 | 1450 | 1700 | 7 | 480-560 | -40 | 20 |
HSC Armor Plates - 500T Grade Chemical Composition 8011
| | | | | | | | | | |
| --- | --- | --- | --- | --- | --- | --- | --- | --- | --- |
| | C | Si | Mn | P | S | Cr | Ni | Mo | B |
| Ramor 500 | 0.32 | 0.7 | 1.5 | 0.02 | 0.02 | 1 | 2 | 0.7 | 0.01 |
HSC Armor Plates - 500T Grade Equivalent Grades
| | | | |
| --- | --- | --- | --- |
| GRADE | USED FOR | DIMENSIONS | STANDARDS |
| Armor | Armoured | T:3 - 15mm | EN 10029 EN 10051 |
HSC Armor Plates - 500T Grade Products Supplier
Baroda, Granada, Ankara, Ahvaz, Port-of-Spain, Caracas, Vadodara, Sydney, Thiruvananthapuram, Lagos, Pimpri-Chinchwad, Ernakulam, Nagpur, Coimbatore, Mexico City, Santiago, Abu Dhabi, Dammam, Surat, Ludhiana, Bogota, Courbevoie, Melbourne, Noida, Tehran, Perth, Bengaluru, Haryana, Edmonton, Los Angeles, Faridabad, Seoul, Madrid, Sharjah, Bhopal, Thane, La Victoria, Pune, Dubai, Jamshedpur, Rajkot, Lahore, Geoje-si, Jakarta, Kolkata, Gimhae-si, Vung Tau, Karachi, Istanbul, Manama, Kuwait City, Howrah, Hanoi, Hong Kong, New Delhi, Calgary, Ranchi, Muscat, Hyderabad, Mumbai, Moscow, Kuala Lumpur, Nashik, Busan, Ho Chi Minh City, Singapore, Aberdeen, Algiers, Cairo, Chandigarh, Dallas, Milan, Ahmedabad, Houston, Ulsan, Visakhapatnam, Colombo, New York, Chennai, Toronto, Brisbane, Petaling Jaya, Jaipur, Navi Mumbai, Atyrau, Jeddah, Secunderabad, Kanpur, Gurgaon, Bangkok, Indore, Rio de Janeiro, Montreal, Al Khobar, Riyadh, London, Chiyoda, Doha, Al Jubail
HSC Armor Plates - 500T Grade Products Exporter
Norway, Puerto Rico, Yemen, Romania, Mongolia, Brazil, Costa Rica, South Korea, Finland, Lithuania, Italy, Qatar, Colombia, Russia, Lebanon, Indonesia, Bangladesh, Zimbabwe, New Zealand, Belgium, Taiwan, Poland, Macau, Israel, Serbia, Malaysia, Germany, Venezuela, Afghanistan, Ireland, Poland, Thailand, Gabon, India, Tibet, Australia, Nigeria, Angola, Sri Lanka, Libya, Hong Kong, Mexico, Kuwait, Switzerland, Bhutan, Bulgaria, Nepal, Singapore, China, Kenya, Croatia, Japan, Sweden, Trinidad & Tobago,Tunisia, Egypt, France, Bolivia, Peru, Mexico, United Kingdom, Austria, Portugal, United Arab Emirates, Jordan, Ecuador, Nigeria, Chile, Czech Republic, Philippines, Iran, Chile, Netherlands, Canada, Namibia, Slovakia, Kazakhstan, Ghana, Turkey, South Africa, Azerbaijan, Oman, Belarus, Gambia, Saudi Arabia, Ukraine, Morocco, Greece, Spain, Pakistan, United States, Iraq, Iran, Bahrain, Algeria, Argentina, Hungary, Denmark, Estonia, Vietnam