Our Products
Stainless Steel 321 Products
Stainless Steel 321 Products
ASTM A240 Stainless Steel 321 / 321H Sheets , Plates, Pipes, Tubes & Flanges Supplier & Exporter
Stainless Steel UNS S32100 / S32109 Sheets & Plates, SS Sheets & Plates, Stainless Steel Sheets & Plates Supplier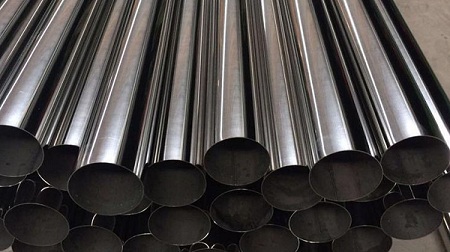 Metal Ministry Inc. are dealer and supplier of Stainless Steel 321-321h Sheets Plates in Indian as well as international market. We manufacture stainless steel sheets and plates in customize design using premium quality raw materials. We have an expert team that does their work in a proper way and produce a high-quality product in terms of usability, reliability, and longevity. We offer a wide range of sheets and plates in a variety of sizes and dimensions. These products are subjected to various tests at each stage of production.
Metal Ministry inc. is a leading manufacturer and exporter of Stainless Steel 321 and Stainless Steel 321H Pipes and Tubes that are being designed as per the national and international standard quality of raw materials and thus making sure of their durability and high quality.

SS 321 Pipes and Tubes (WNR 1.4541) is basic type of SS 304 which is being modified by adding titanium in an amount of at least 5 times the carbon-plus nitrogen contents. SS 321H Pipes and Tubes (WNR 1.4878) stabilizes to permit the use in 800-1500°F (426-815°C) range without harmful carbide precipitation. SS 321 Seamless Pipes has improved intergranular corrosion resistance, whereas SS 321H Welded Tubes has excellent for high temperature service in carbide precipitation range.
| | | |
| --- | --- | --- |
| Standard | SS 321 | SS 321H |
| UNS | S32100 | S32109 |
| WERKSTOFF NR. | 1.4541 | 1.4438 |
Stainless Steel 321 / 321H Pipes & Tubes Specification :
Specifications : ASTM A/ASME SA213/A249/A269/A312/A358 CL. I to V
Pipes & Tubes : 1/2" NB - 24" NB
ERW Pipes & Tubes : 1/2" NB - 24" NB
EFW Pipes & Tubes : 6" NB - 100" NB
Outer Diameter : 6.00 mm OD up to 914.4 mm OD, Sizes up to 24" NB
Thickness : 0.3mm – 50 mm, SCH 5, SCH10, SCH 40, SCH 80, SCH 80S, SCH 160, SCH XXS, SCH XS
Type : Seamless / ERW / Welded / Fabricated / CDW
Form : Round Pipes/Tubes, Square Pipes/Tubes, Rectangular Pipe/Tubes, Coiled Tubes, "U" Shape, Pan Cake Coils, Hydraulic Tubes
Length : Single Random, Double Random & Required Length
End : Plain End, Beveled End, Treaded
Chemical Composition :
Grade
C
Mn
Si
P
S
Cr
Ni
Ti
N
321
0.08 max.
2.00 max.
0.75 max.
0.045 max.
0.03 max.
17.0 – 19.0
9.0-12.0
5 x (C+N) min.
0.1
(0.70max.)
321H
0.04 – 0.10
2.00 max.
0.75 max.
0.045 max.
0.03 max.
17.0 – 19.0
9.0-12.0
5 x (C+N) min.
0.1
(0.70max.)
Mechanical properties :
| | |
| --- | --- |
| Grade | 321 / 321H |
| Density | 7.92 |
| Melting Range,? | 1398 - 1446 |
| Elongation % | 40 |
| Tensile Strength (Mpa) | 515 |
| Yield Strength (Mpa) | 205 |
| Hardness (Brinell) | 217 |
Other Products of Stainless Steel 321 / 321H Pipes & Tubes
ASTM A312 TP 321 Stainless Steel Seamless Pipes
ASTM A269 TP 321H Stainless Steel Seamless Tubes
AISI 321 Welded Pipes
Stainless Steel 321H Welded Tubes
Stainless Steel 321 Seamless Pipes
SUS 321 ERW Pipes
Stainless Steel 321H EFW Pipes
ASTM A312 TP 321H Stainless Steel Welded Pipes
Stainless Steel 321 Rectangular Pipes
Stainless Steel 321 Seamless Tubes
Stainless Steel 321H ERW Tubes
AISI 321H EFW Tubes
Stainless Steel 321 Welded Pipes
Stainless Steel 321H Rectangular Tubes
Stainless Steel 321 – 321H Products Supplier
Baroda, Granada, Ankara, Ahvaz, Port-of-Spain, Caracas, Vadodara, Sydney, Thiruvananthapuram, Lagos, Pimpri-Chinchwad, Ernakulam, Nagpur, Coimbatore, Mexico City, Santiago, Abu Dhabi, Dammam, Surat, Ludhiana, Bogota, Courbevoie, Melbourne, Noida, Tehran, Perth, Bengaluru, Haryana, Edmonton, Los Angeles, Faridabad, Seoul, Madrid, Sharjah, Bhopal, Thane, La Victoria, Pune, Dubai, Jamshedpur, Rajkot, Lahore, Geoje-si, Jakarta, Kolkata, Gimhae-si, Vung Tau, Karachi, Istanbul, Manama, Kuwait City, Howrah, Hanoi, Hong Kong, New Delhi, Calgary, Ranchi, Muscat, Hyderabad, Mumbai, Moscow, Kuala Lumpur, Nashik, Busan, Ho Chi Minh City, Singapore, Aberdeen, Algiers, Cairo, Chandigarh, Dallas, Milan, Ahmedabad, Houston, Ulsan, Visakhapatnam, Colombo, New York, Chennai, Toronto, Brisbane, Petaling Jaya, Jaipur, Navi Mumbai, Atyrau, Jeddah, Secunderabad, Kanpur, Gurgaon, Bangkok, Indore, Rio de Janeiro, Montreal, Al Khobar, Riyadh, London, Chiyoda, Doha, Al Jubail
321 – 321H Stainless Steel Products Exporter
Norway, Puerto Rico, Yemen, Romania, Mongolia, Brazil, Costa Rica, South Korea, Finland, Lithuania, Italy, Qatar, Colombia, Russia, Lebanon, Indonesia, Bangladesh, Zimbabwe, New Zealand, Belgium, Taiwan, Poland, Macau, Israel, Serbia, Malaysia, Germany, Venezuela, Afghanistan, Ireland, Poland, Thailand, Gabon, India, Tibet, Australia, Nigeria, Angola, Sri Lanka, Libya, Hong Kong, Mexico, Kuwait, Switzerland, Bhutan, Bulgaria, Nepal, Singapore, China, Kenya, Croatia, Japan, Sweden, Trinidad & Tobago,Tunisia, Egypt, France, Bolivia, Peru, Mexico, United Kingdom, Austria, Portugal, United Arab Emirates, Jordan, Ecuador, Nigeria, Chile, Czech Republic, Philippines, Iran, Chile, Netherlands, Canada, Namibia, Slovakia, Kazakhstan, Ghana, Turkey, South Africa, Azerbaijan, Oman, Belarus, Gambia, Saudi Arabia, Ukraine, Morocco, Greece, Spain, Pakistan, United States, Iraq, Iran, Bahrain, Algeria, Argentina, Hungary, Denmark, Estonia, Vietnam